Any good solutions to connect an indoor humidity sensor to the velbus system ?
We're working on an analog input module with 0-10V / 0-20mA inputs, that could be a solution. Should be available somewhere later this year.
Apart from that there exist potential-free output humidity sensors that can be connected to a VMB7IN input module, or even to a VMB8PBU pushbutton interface if that's more convenient for cabling.
Hi
Am I correct in saying that something like this 25k5 ohm Humidity sensor will work with the analogue input module?
https://jr-international.fr/resistive-humidity-sensor-h25k5_REH25K5_itm_english_GBP___.html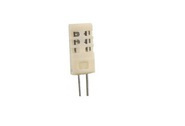 Or would we be better to look for a humidity sensor that outputs a 0-10v signal like this on Ebay?
(This unit needs a 24v power supply, I'm sure I've seen 12v versions somewhere)
http://www.ebay.co.uk/itm/Temperature-Humidity-Sensor-Acquisition-Transmission-Module-Output-0-10V-/122226927801?_trksid=p2385738.m2548.l4275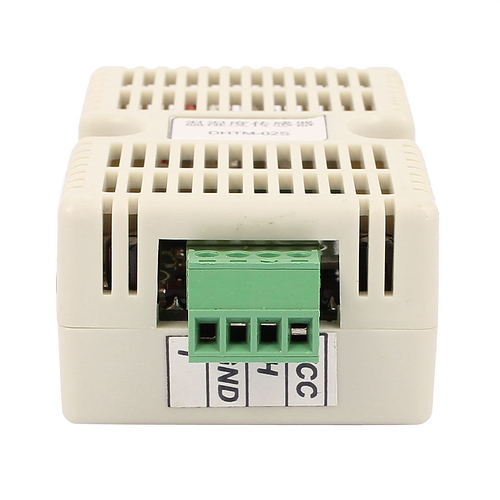 Cheers
Stuart
The analog input module is designed for 0 to10 V voltage input, 4 to 20 mA current loop input or temperature resistor PT1000 or Ni1000 input.
It's best to use a humidity sensor with 0 to 10 V output.
Resurrecting an old thread…
I do have the DHTM-025 Temperature and Humidity sensor suggested by MDAR working fine with a VMB4AN controlling the extractor fans in my bathroom. New link - Temperature and Humidity Transmitter Temp Detection Sensor Module 0-10V | eBay. Accepts 12-24V, so wired directly to the VMB4AN power and inputs via CAT5e. Only issue is that it is rather ugly. I am thinking of putting in in another more WAF enclosure, but wondering if anyone has tried a better looking alternative? In an ideal world Velbus will have a VMBPIRM with a temperature/humidity sensor, but alas, they do not.
I went for a mixture of Velbus, Sonoff and OpenHab… Sonoff has an HT10/16 that does temp/humidity and 1 relay channel… through OpenHab I can still send actions to a Velbus channel…
I tried the 4AN icw a water meter sensor (industrial) and a water pressure sensor … one is voltage, the other Ohm based… but so far… I did not get consistent results from the combination of modules…